Hermosa Beach is a beautiful beach city in the South Bay area of Los Angeles. It comprises three charming neighborhoods: Hermosa Beach Sand, Hermosa Beach Valley, and Hermosa Beach East. Each pocket possesses its charm and amenities. Let's take a magnifying glass to these three enclaves and their offerings.
Hermosa Beach Sand
Appropriately named for its proximity to the beach, Hermosa Beach Sand is a highly sought-after community. This highly walkable enclave boasts a small population and hefty property price tags. Hermosa Beach Sand is home to some of the coolest and most unique architecture in the South Bay. You will seldom find a quaint beach cottage here; you're much more likely to find expansive multi-level homes, condos, and townhomes.
Beach lovers live out their coastal lifestyle dreams here, with nothing but a boardwalk separating homes from the beach. People flock to the Sand section during the summer months, so consider that when buying a property in the area.
When locals aren't gazing at the ocean from their beachfront homes, they join the fun at one of the many volleyball games that occur year-round. Hermosa Beach has been the site of an annual
CBVA Volleyball Tournament
since the 1960s. The tournament welcomes players of all ages and skill levels, meaning if you're a novice, there is still space for you to compete!
Surfers, paddle boarders, and sunbathers find Hermosa Beach Sand to be heaven on earth. There are plenty of surf competitions held here, giving locals awe-inspiring and community-oriented events to enjoy year-round. For less competitive folks just looking to have a good time and stay active, there are 71 beach volleyball courts and 6 beach tennis courts in Hermosa Beach.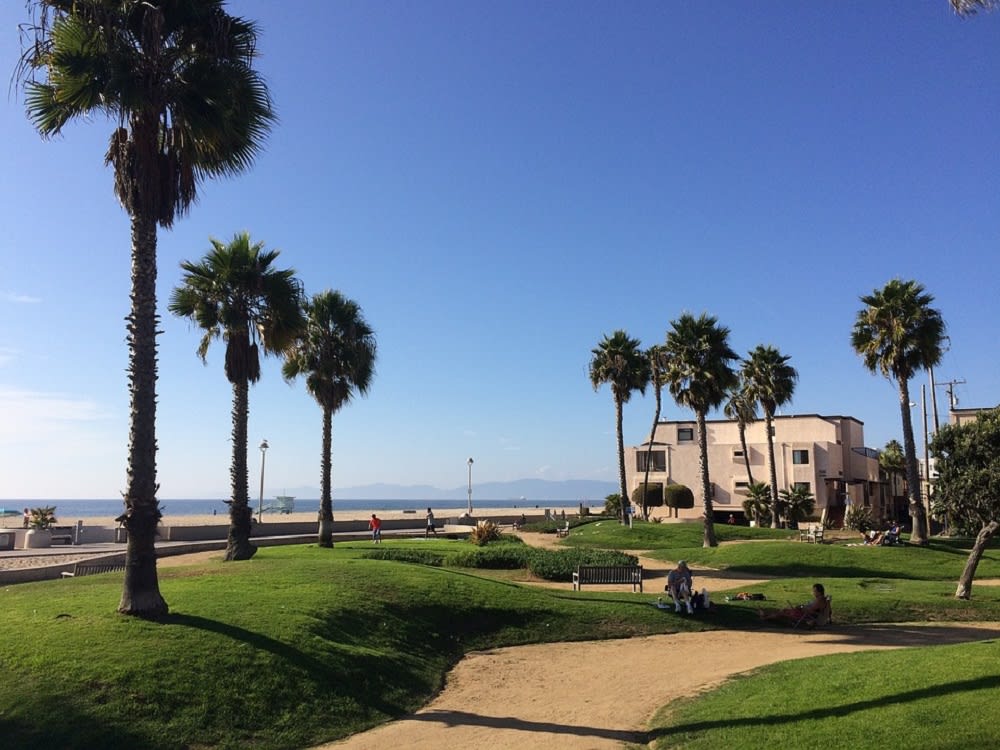 Countless Hermosa Beach residents and travelers visit the
Hermosa Beach Pier
daily to glimpse the awe-inspiring Pacific Ocean below and fish in hopes of catching dinner. Those who prefer to have an ocean view sans sand head to the green area right in front of the beach, Noble Park. Families enjoy sunny SoCal days by visiting
Valley Park
to enjoy the playground, barbecue grills, picnic tables, fire pit, basketball court, and plenty of lush grass for various recreation activities.
The Strand is a lovely place to stroll and visit Pier Plaza's many shops and restaurants. Locals walk over to
Martha's
for a delicious meal any time of day to savor California eggs benedict and mimosas at brunch or pick up a steakhouse salad to enjoy on the sandy beach. Parents take their kids to
Red & Louie's Pizzeria
for some slices and meatball subs. When adults need to unwind, there are several bars through the Sand section to kick back and drink a couple of cold ones throughout the Sand neighborhood.
On any given day, locals are seen in
North End Bar & Grill
, noshing chicken wings and drinking beer during the day, and meeting friends for a lively night out. Beer enthusiasts flock to
The Rockefeller
to delight in independent American craft beer and feast on eclectic dishes like roasted vegetable flatbreads and hearty chicken pot pie.
The beach, fantastic restaurants, mom-and-pop shops, and community events. What more could you desire in a coastal community?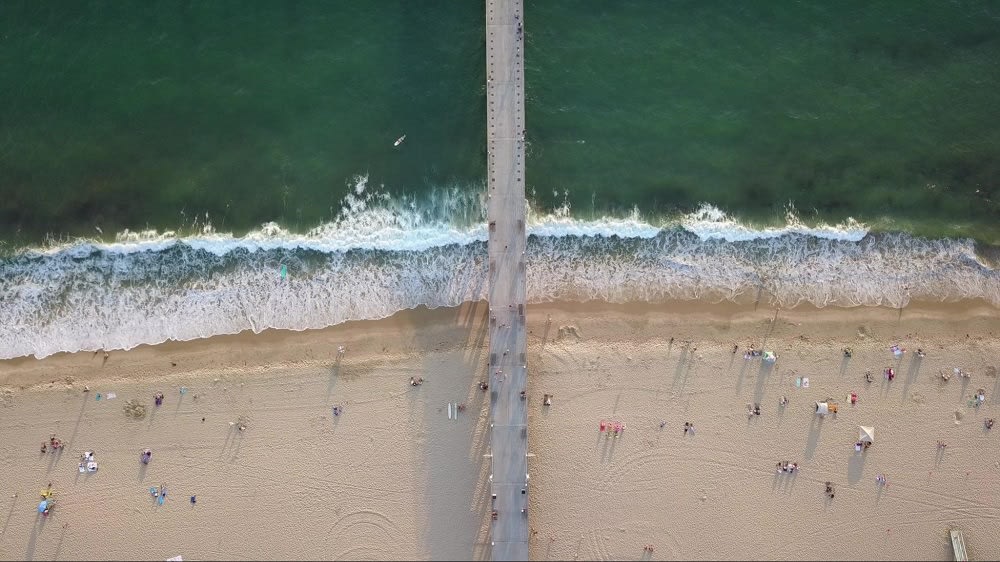 Hermosa Beach Sand
Just east of Hermosa Beach Sand lies the predominantly residential community Hermosa Beach Valley. The area is an excellent place to find relatively affordable homes with striking ocean views. There is a variety of residential single-family homes, condos, and townhomes, including homes built in the early 1960s to brand-new modern constructions.
In addition, houses are near Hermosa Valley Park and school. They are also situated along the "
Green Belt
" which is a 3.5 mile-long landscaped trail that runs parallel between Ardmore and Valley Drive. Joggers, pedestrians, mothers with strollers, dirt bike riders, dog walkers, and fitness lovers of all ages use the Green Belt frequently.
One of the best attributes of living in Hermosa Beach Valley is being a short distance from the beach, while still being very close to local eateries and boutiques in the downtown Hermosa Beach area. The Pier Plaza is located downtown, stretching from 1 Pier Avenue to 11 Pier Avenue and leading straight to the pier. It's the perfect place to sip some drinks, grab a slice of pizza, and take in some of the best sights in Hermosa. People often head to
Greenbelt
on the pier to enjoy a meal after a long day of beach bumming and wandering through various shops. When craving seafood, locals stop by
Zane's
for fresh ahi tartar and sumptuous lobster ravioli.
Once thoroughly nourished, folks stop by world-famous skate and surf shops like
Globe Cabin
,
ET Surf
, and
Spyder Surfboards
to re-up on beach lifestyle necessities. Cycling shops like
Hermosa Cyclery
and
The Old Bike Shop
are favorites for bikes suitable for rolling along The Strand. The beauty of living in the 1.5-square-mile beach city Hermosa Beach is that you're always close to the sand and areas to bike, surf, skate, and enjoy various recreational opportunities.
For a fun and fascinating pastime, Hermosa Beach Valley residents waltz over to the
Hermosa Beach Museum
to view nearly 3,500 items, including photographs, postcards, prints, newspapers, and more. Additionally, the Hermosa Beach Historical Society hosts and facilitates a multitude of fun events for the South Bay community year-round.
Although Hermosa Beach Valley isn't located right on the beach, it is still close to the sand, surf, and shops accessible here while offering a quieter place for families and professionals to lead beach-going lifestyles.
Hermosa Beach East
Moving further east lies Hermosa Beach East, otherwise known as East Hermosa or Hermosa Hill. Homes in East Hermosa boast stunning coastal views due to their convenient location above Pacific Coast Highway. These properties have easy access to the other two neighborhoods but typically offer lower price tags.
The earliest homes in East Hermosa were built circa 1905. Properties come in a variety of architectural styles, including Bungalow, Cape Cod, Cottage, Craftsman, Contemporary, Modern, Mid-century Modern, and more. Although Hermosa Beach East real estate often features antiquated architectural styles, properties here are often upgraded to include modern appliances and amenities, making this neighborhood suitable for homebuyers who appreciate mature architecture and modernity. Those who appreciate townhomes and single-family homes in a quiet, family-friendly area adore life in Hermosa Beach East. After all, the beach and exceptional features of neighboring areas are a simple hop, skip, and a jump away!