Manhattan Beach is one of the most coveted beach communities in Southern California. About 45 minutes south of Los Angeles, it's a laid-back community with a beachy, family-friendly atmosphere. The beach is beautiful, shopping and dining opportunities are plentiful, and the homes are exquisite. From quaint bungalows to modern, waterfront properties, Manhattan Beach has a beach home for everyone. Read on to learn more about various kinds of beach homes.
Waterfront
One of Manhattan Beach's best qualities is the
bike path
that runs along the beach. It's always bustling with people walking, rollerblading, or biking. If you enjoy being in the middle of the action, a waterfront property might be the spot for you.
These homes have great views of the ocean, and since they are steps from the beach, you are also right next to the bike path. Walk out of your home, go for a run on the path, and then sink your toes into the sand to relax. This is a perfect location for someone who wants the full Manhattan Beach experience.
Modern
Many of the homes along the beach are architecturally modern, but some are especially new builds. One of the biggest perks of these modern-style homes is the giant windows. A great beach home has great views, so these homes don't disappoint in that category.
Cathedral ceilings leave plenty of room for glass walls, through which you can take in all of the sunrises and sunsets. While these homes may not look "sprawling," they're vertical builds, so they are actually quite spacious. You'll likely have several floors, including a rooftop patio! Understandably, these waterfront builds are among the most expensive in the area, often totaling well over $10 million.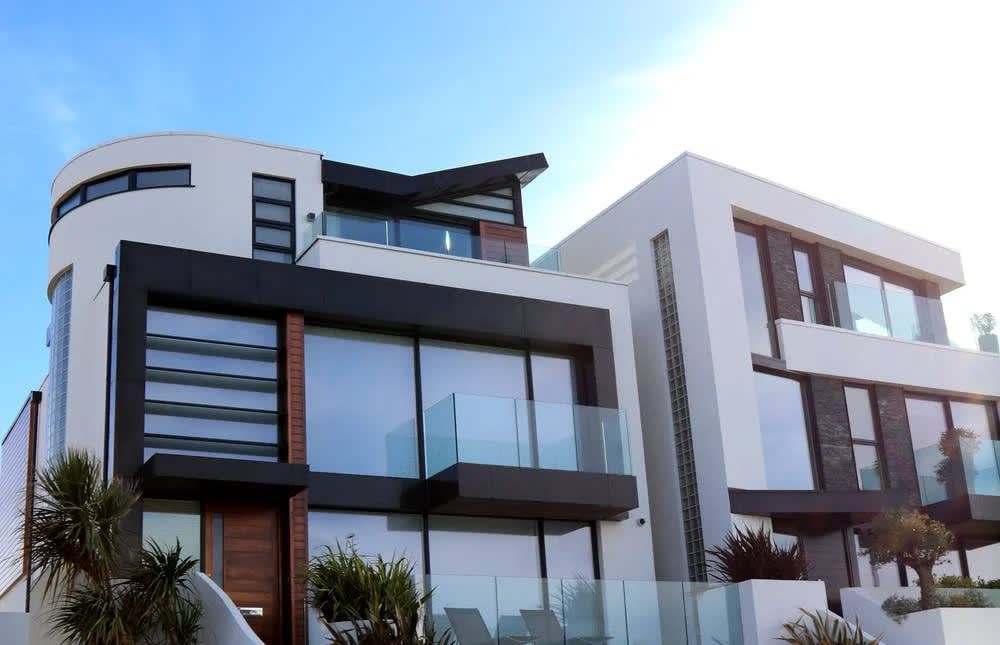 Craftsman
Further from the shore, you'll find a lot of
Craftsman
homes. This 19th-century American style is popular in beach communities because of its quaint feel. Manhattan Beach has an especially suburban vibe, into which Craftsman builds fit nicely. Many of these models have been renovated, so their interiors are a blend between modern and 19th-century. You'll often find custom built-ins, high-quality woodwork, and high ceilings.
The front porches are also an added benefit, as having a place to gather is so important in a suburban community like this. Add some luxe patio furniture to your front porch or deck and invite friends and family. You don't have to be on the beach to smell the salty sea air! These properties are a tad further from the water (although still close) and hover around $5-$7 million.
Duplex
Manhattan Beach has a fair number of duplexes, which you can find quite close to the beach. Many duplexes can be found in-and-around the area's "walk streets," which are just feet from tons of shops and restaurants. Because Manhattan Beach is on a hill, you may find a duplex on top of the hill, which makes for unbeatable views at a slightly lower going rate.
Choose an upper unit for water views or a lower unit for private backyards and patios. If you're in the market for two levels, consider investing in both. A double lot compound is a fantastic investor opportunity, as a Manhattan Beach duplex averages between $3-$4 million.
"Old Beach"
The more residential section of Manhattan Beach offers several quaint "old beach" homes. These smaller properties were built in the 1950s and fit the suburban aesthetic. You'll often find original oak hardwood floors, fireplaces, picture windows, and large, sturdy kitchens. Another benefit of this single-family style is that it often comes with a private backyard that is perfect for entertaining.
If you're interested in remodeling, these homes are great investment opportunities. The land value is high, and the typical alleys on either side of the home provide room for expansion. Often, you can find these kinds of homes for just under $3 million.
Townhouse
Expanding on duplexes, townhouses in Manhattan Beach are terraced properties that offer spacious residences in a smaller footprint. You'll find these just a short walk from the beach, and there are several in North Manhattan Beach.
A typical model has a wide floor plan and balances indoor and outdoor living. Most often, you'll find a movie theater on the lower level, a kitchen and living room(s) on the middle level, and bedrooms up above. These townhomes usually have decks that flow seamlessly from the living area to the outdoors, which are, again, ideal for entertaining! You'll also find multi-car garages. With all these marvelous amenities, these properties typically cost $4-$5 million.
Cape Cod
Manhattan Beach pays homage to another famous beach town with its
Cape Cod-style
homes! These beautiful builds are typically in the "Tree Section" area of Manhattan Beach quiet, residential, and still a reasonable walk or drive from the beach. They have such a charming East Coast vibe, and many are relatively new.
You'll find French white oak flooring, home theaters, multiple bedrooms, and lots of natural lighting. You'll also likely have easy access to a beautiful, private backyard. Multi-car garages mean plenty of space for a family of surfboarders or paddleboarders. These homes have so much beauty and a quintessential charm, and you'll find a Cape Cod-style home for about $5 million.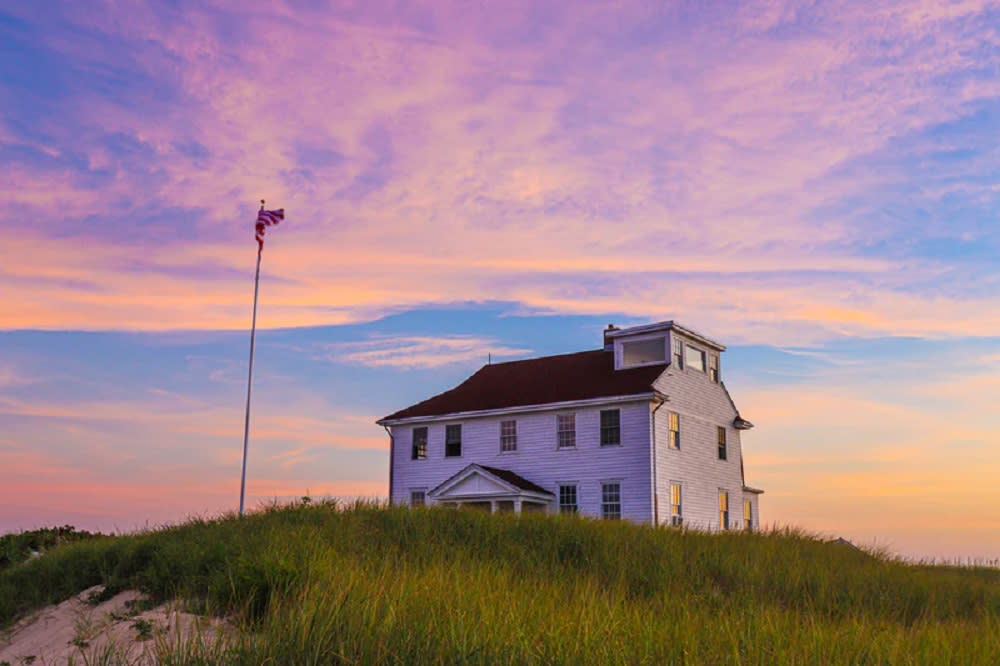 Mediterranean
Typical of California but less typical of Manhattan Beach are Mediterranean and Spanish-style homes. These unique builds make you feel like you're on a European getaway.
Stucco walls
and Spanish tiled roofs hold up well in beach climates. You'll find these homes along the waterfront, as well as further inland, so expect to pay between $2.5-$5 million for this Mediterranean oasis.
Bungalow
The
bungalow
is another abundantly charming style. These small builds are quintessential California beach properties. They're also typically older, many built in the first half of the 20th century, and often boast hardwood floors, galley kitchens, and exposed beams. Perfect for smaller families or singles, these homes average two bedrooms and two bathrooms.
You'll often find them within walking distance to the beach, and you're also likely to have a spacious backyard and patio, perfect for evening s'mores by the fire pits or a midday lounge on the outdoor sofa. Expect to pay around $2 million or under for these quaint spots.